Our clients are managing a total of 77,161 employees and just last month used StaffMate Online to schedule 143,891 shifts for 20,023 unique events.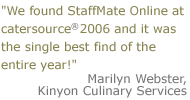 Not a Staffing Agency.
StaffMate Online is the first and only staff scheduling program created specifically for the special events industry. It has the power and flexibility to transform the way you schedule
your own on-call staff
. For decades, the drill for staffing coordinators has been the same: call your employees, muddle through busy signals, voicemail and call-backs and field employee 'clarification calls' about what to wear, where to meet and how to get there.

StaffMate Online harnesses the power of the Internet to slash scheduling calls by 75% or more and nearly eliminate the employee 'clarification calls.'