Although there are a number of reasons why StaffMate Online is the top staff scheduling software in the special events industry, we've whittled the list down to what we believe are the top ten ingredients of our tremendous success: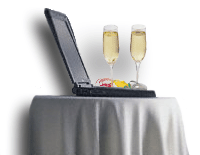 Over the past 15 years, our clients in the special events industry have utilized StaffMate Online to successfully schedule an astounding grand total of
13,434,617
shifts for
1,948,277
unique events.
We owe a large part of our success to the fact that StaffMate Online was the first and is still the only online staff scheduling program created specifically for and in consultation with the special events industry.
---
"StaffMate Online is great! I love using this program because it saves so much time and energy! It keeps me organized, and every caterer should try it!"

Nicole Labbato, Bill Hansen Catering
---
That's not to say that other staff scheduling companies haven't tried to "modify" their software to compete in this industry. A few have. But the result has always been a complex scheduling system requiring hours of configuration just to get it to do something close to what you desire.

You're almost always better off investing in software that was created specifically for your type of business, that has all of the features you need to be successful and that does everything you need right out of 'the box,' with little or no configuration. When scheduling staff in the special events industry, StaffMate Online is that software.