---
STAFFMATE ONLINE 2006 PRESS KIT - Adobe PDF Format
---

You can download the StaffMate Online 2006 Press Kit in Adobe PDF format below.
The Press Kit includes a letter from our founder, background information on our company and our software, article ideas, company data and statistics and a glimpse into what we have planned for 2006.
STAFFMATE ONLINE 2006 PRESS KIT

StaffMate Online 2006 Press Kit
- 2.5MB
---
STAFFMATE ONLINE LOGOS - 300dpi EPS & 72dpi JPG Formats
---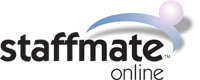 The "print logo" file below includes 4 different versions of our logo. Please use only the third logo in the file, the logo with the word
staffmate
completely in bold and without the word "discover".
You can resize the image as needed. If the image is not exactly what you need, please call 1.888.782.3341 and we will get you what you need.
HIGH RESOLUTION LOGO FOR PRINT MEDIA
StaffMate Online Logos 4" x 9" -
staffmate_logo_final.eps
- 7MB
LOW RESOLUTION LOGO FOR WEB MEDIA
StaffMate Online Logo 250px x 100px -
staffmate_web_logo_250.jpg
- 19kb
---
STAFFMATE ONLINE SCREENS - 300dpi EPS & 72dpi JPG Formats
---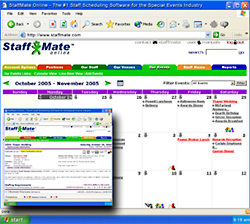 Please download any of the screen shot images below to suit your needs.
The first three are EPS images for print media. The last is a screen resolution combination screen shot for the Web.
HIGH RESOLUTION SCREEN SHOT IMAGE FOR PRINT MEDIA - COMBO 2 COLUMNS
StaffMate Online Screen Shot 4.613" x 4.127" -
StaffMate_Screen_Shot_Combo.eps
- 9.2MB
HIGH RESOLUTION SCREEN SHOT IMAGE FOR PRINT MEDIA - CALENDAR 1 COLUMN
StaffMate Online One Column Calendar Screen Shot 2.25" x 2.013" -
StaffMate_Screen_Shot_Calendar.eps
- 2.4MB
HIGH RESOLUTION SCREEN SHOT IMAGE FOR PRINT MEDIA - EVENT SCREEN 1 COLUMN
StaffMate Online One Column Event Screen Shot 2.25" x 2.013" -
StaffMate_Screen_Shot_Event.eps
- 2.4MB
LOW RESOLUTION SCREEN SHOT COMBO IMAGE FOR WEB MEDIA
StaffMate Online Combination Screen Shot 250px x 224px -
Screen_Shot_Combo_Thumb.jpg
- 72kb