StaffMate Online created the catering industry's very first integration with catering management software more than a decade ago and now we are proud to announce that we will be working with Caterease, once again, to take our interface to incredible new levels of functionality, efficiency and cross-platform engagement!
---

---
Securely transmit event information and staffing requirements from Caterease to StaffMate Online with just a click of your mouse. And soon, seamlessly transmit information back and forth to keep both programs current with the latest event details!

Without proper organization, our jobs seem significantly more difficult. Frantically thumbing through dozens of sheets of paper just to find one little piece of event information is unnecessarily chaotic.

Drop the staff sheets, step away from the pencil, deep-6 the rolodex and all of its outdated employee contact information. With StaffMate Online, event, venue and staff information is easily accessible, logically organized and just a click away... from work, from home or on location, 24 hours a day, 7 days a week from any Internet-connected computer in the world.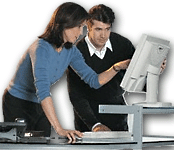 Once you've taken five minutes to enter vital event details and chosen to which of your on-call staff you wish to publish an event, each employee can log into their own personal web-based event calendar to review and choose the events for which they are available and qualified.
Your employees can even use their event calendar to print their own upcoming work schedules and remind themselves of what time to arrive, what to wear, where to meet and how to get there, 24 hours a day, 7 days a week.
---

---
And with our robust administrative tools, you maintain the ability to:
notify only those employees you wish to have work the event
accept or reject employee work requests
quickly & easily move employees from one event to another
manually assign positions as you see fit.

StaffMate Online provides you with the tools you need to cut outbound staff scheduling calls by 75% or more and nearly eliminate inbound clarification calls like when to arrive and where to meet. And because our staff scheduling program is web-based, both you and your on-call employees can access StaffMate Online and all of its features from any Internet-connected computer, at any time of the day or night, from anywhere in the world.

From the moment you first enter event details, StaffMate Online will be saving you more time, money, energy and resources than you could have ever imagined. At the same time, you will be providing your staff with the ability to have just a little more control over their own work destiny while maintaining the same powerful management authority upon which you have come to rely.