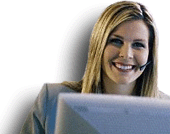 You will begin experiencing StaffMate Online's impeccable service the moment you enroll in our 21-Day Free Trial.
At a time that is convenient for you, we will schedule a Telephone Guided Tour during which we will walk you through every aspect of our staff scheduling program. And we won't end the call until every one of your questions is answered.
Once you're ready to begin integrating StaffMate Online into your staff scheduling process and if you have your staff list in Excel or other data format, we will import your staff members into StaffMate Online at no charge to you.