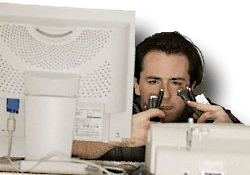 The StaffMate Online service is hosted and maintained in an online environment by our technical support staff on servers we operate. As such, there are never any software or hardware conflicts for you to troubleshoot.
Additionally, with StaffMate Online there is nothing to install, no new hardware to buy and no new third-party software to acquire. All you need is browser-based Internet access and an email account.
And StaffMate Online is 100% compatible with both Windows and Macintosh and all versions of Internet Explorer and Netscape.