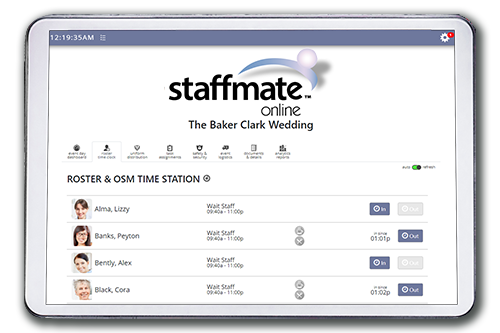 The Onsite Command Center is a mobile event-day tool for On Site Managers (OSMs) that provides every bit of information OSMs need to execute the perfect event, right on their own mobile phones or tablets: OSMs have complete access to Time Clock Management, BEOs, Floor Diagrams, Client Details, Attire Distribution, Logistics, Safety & Security, Task Assignments, and custom Post-Event Action Reports which flow immediately to upper management.
How does the Onsite Command Center work? Assign ANY employee as the On Site Manager and that employee will be empowered to clock others in & out, update statuses of the event as it passes through event-day cycles (truck packing, unpacking, prep, plating, …), enter on-the-spot actionable notes as situations occur, all leading to a customizable post-event summary for the completion of the event documentation cycle.
What makes the On-Site Manager Tool even more impressive is that you, as the owner or scheduling coordinator, can open the entire day's worth of events and watch LIVE as EACH event's OSM updates their event's progress. See which workers have clocked in and who hasn't yet, see the on-the-spot actionable notes in real-time as they are entered, highlight situation notes of interest to you alerting the OSM that you would like further elaboration in the post-event summary and dynamically add event-specific questions to the post-event summary.
Take event day to the next level with interactive remote management exclusively with StaffMate's Onsite Command Center.