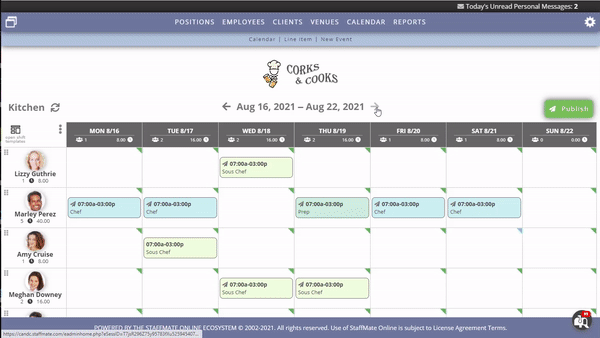 For 20 years, StaffMate Online has set the standard for scheduling event-based staff for remote shifts and now we we're bringing that vast experience & innovative vision to every other worker type. StaffMate boasts the most intuitive, drag & drop scheduling environment for your kitchen, warehouse, housekeeping, sales, retail workers and more.
Create as many Operational Units (OpsUnits) as you need, have a different manager in charge of each, assign workers to the OpsUnits for which they are eligible, spin up as many timeclocks as you desire and place them on tablets you own in any location with WiFi & power.
Scheduling & time tracking have never been easier. Each OpsUnit Manager can see and schedule her own staff with drag & drop, copy & paste, drop-in template ease. Create multi-day shifts in seconds, color code the assignments, drag & drop reorder the workers as you see fit, maybe so your supervisors are listed at top.
Edit & delete shifts with ease, create new templates on the fly, copy the previous week to the current week with one click, see "live" availability info with color coded and hoverable corner ticks on each day for each worker.
See immediate shift & hours updates for both the day & the worker with each schedule change you make, making it easier to stay on budget and steer clear of unintentional scheduled overtime.
Then, when you are satisfied, click publish and instantly all workers scheduled will receive a mobile alert, an email and a message in their StaffMate Inbox letting them know the schedule has been released.
From there, your workers have access to the same calendar for which StaffMate has been famous for more than 20 years, and it comes with all the same bells & whistles your friends in the events industry have enjoyed for years.
The best part is that payroll time & attendance data all flow, regardless of OpsUnit or Events origin, and regardless of capture method, to a single report & export that we custom tailor for your needs. Whether you want to upload that data to Paychex, transmit through API to Gusto or send to your bookkeeper, StaffMate makes it happen.