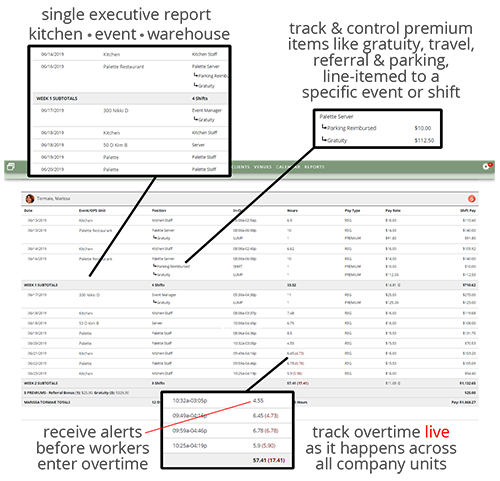 Clever and powerful payroll tools literally convert raw EVENT & TIMESTATION time clock punches to "Payroll Ready" in seconds. Then effortlessly transfer combined data to
ADP®
,
Paychex®
,
Paylocity®
,
Quickbooks®
and more.
No matter how you choose to have StaffMate capture your worker time data, watch as it immediately and seamlessly flows from our multiple capture sources into the industry's most powerful and intuitive payroll prep and export tools.
Automated overtime notifications, an innovative gratuity distribution auto-bot, custom premium pay items, automatic OT calculations and filters for W2 workers, contractors, agencies and gig workers all combine to provide precision labor and cost control.
At the end of an event or the end of an OpsUnit work day, StaffMate insanely swift & intuitive close-out tools allow you to complete payroll prep of those hours in mere seconds.
Add custom premium pay items and use our clever Gratuity AutoBot which automatically calculates tips for even month's old events based upon your answers to a few simple questions.
CONSOLIDATION:
All company time/attendance data funnels to one powerful platform
COLLABORATION:
OpsUnit managers can easily see a worker's complete hours situation prior to scheduling them -- no more OT surprises
OVERSIGHT:
OpsUnit managers approve punches before reaching Payroll
ACCOUNTABILITY:
Easily identify potential OT across all Operational Units and receive pre-OT alerts
CLARITY:
Track items like gratuity, travel, referral & parking