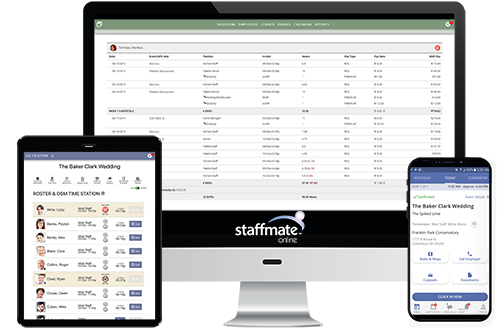 StaffMate Online boasts unified Time & Attendance for your entire operation. Mobile Employee Geofenced time clock, Remote On-Site Timekeepers and Time Stations for Kitchens, Venues, Warehouses, Cafes, & HQ... all feeding a single payroll.
Shop TimeStation:
Load the StaffMate TimeStation onto any tablet or computer, connect to WiFi and a power supply and your time clock is ready for action. Hang as many time clocks as needed in kitchens, warehouses, offices, venues, contract locations.
GPS Geofenced Mobile Worker Time Clock:
With the StaffMate Online Mobile App, workers remotely clock in and out of their confirmed shifts on their own devices.
On Site Timekeepers:
Easily designate ANY confirmed event worker as a Timekeeper and they will be able to see all other workers confirmed to work the event, the positions and shift times for each and the timekeeper will be able to clock each worker in and out from the timekeeper's own mobile phone.
Stop running multiple time tracking systems and consolidate to StaffMate. Unintended overtime and the dizzying series of financial acrobatics required at payroll time can be a significant source of stress for your entire organization. But with StaffMate, all time & attendance data flows seemlessly from our multiple capture sources into the industry's most powerful and intuitive payroll prep and export tools.