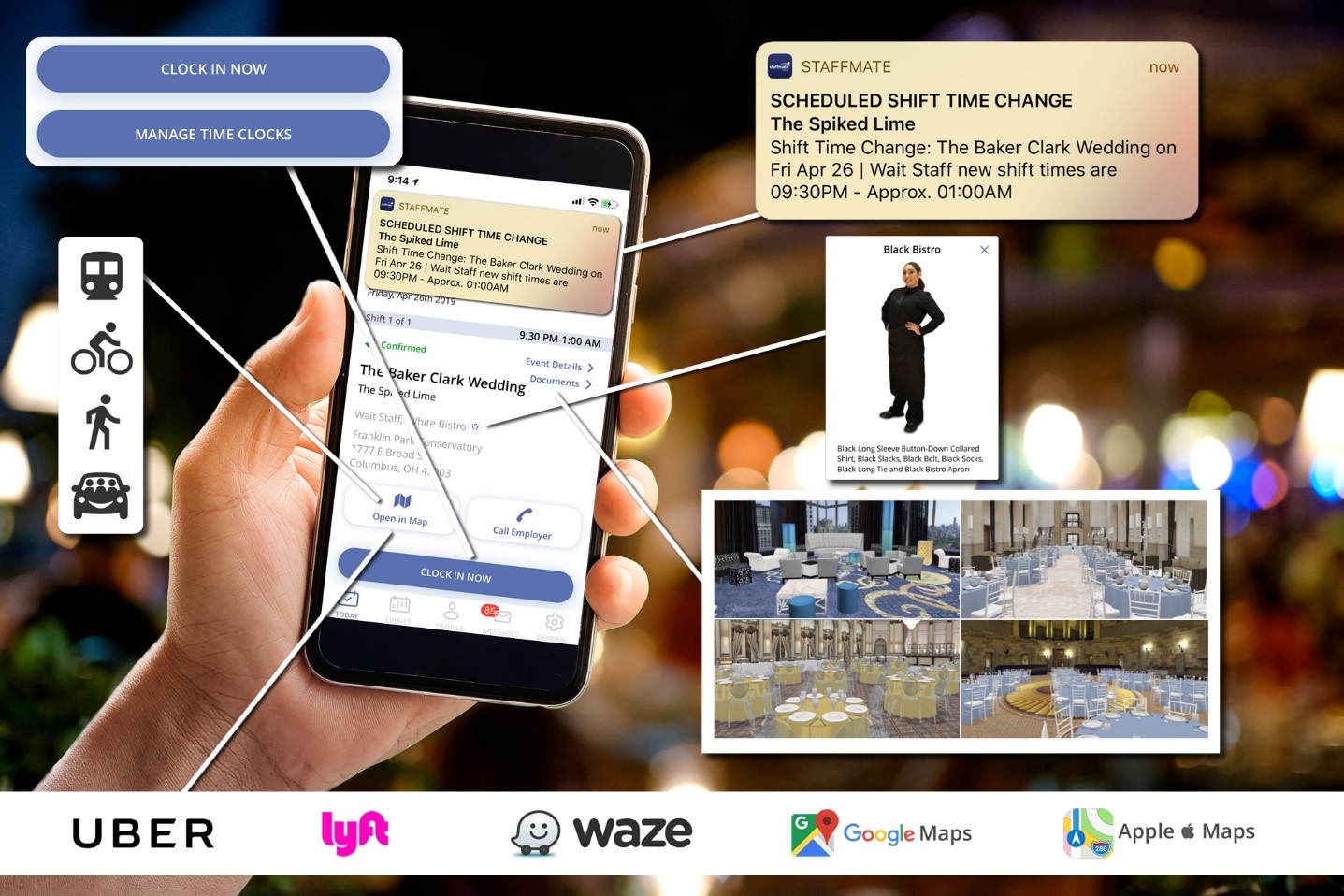 According to an Adobe Software study, 81% of millennial workers said "state of the art technology" was paramount to an ideal working environment over perks or amenities. And Forbes.com adds "Ultimately, what matters is the speed and ease with which employees can access the data required to do their work."
In our industry, your workers are your brand ambassadors on every single event, so having the right software matters greatly.
With StaffMate, workers have instant mobile access to all event-day information. When shift changes occur, instant and automatic notifications blast out. Add in one-click Uber & Lyft hailing and Google, Apple & Waze maps with StaffMate Online's precise GPS and workers just magically appear. After all, ambiguous addresses and lost employees make for grumpy ambassadors. :)
Once on-site, workers can clock themselves in (if you allow it) and/or check in with time keepers that you assign. Sharing Event Documents & Room Diagrams empowers your best workers to have all the event-day information they need to be great brand ambassadors to inquisitive guests.
As they interact with guests, your newest employee should look just like your most seasoned employee. And with shared attire descriptions and uploaded style photos, each employee will know the expectation.
In this tight labor market, anything you can do to retain valuable employees is a must. Ridesharing tools and walking, biking and transit directions provide tremendous benefit to transportation-challenged workers while Shift Swapping tools eliminate burdens to otherwise excellent workers who have additional responsibilities like young children, aging parents, first jobs or classes.
Don't settle for second-rate software that supplies barely enough information to satisfy the unmotivated, average worker. "Brand Up" to StaffMate Online with all of the tools and knowledge to empower the best ambassadors you have to be "excellent co-worker examples" and "positive guest influencers."